2019 Sisters Quilt Show
The 2019 Quilt Festival in downtown Sisters is the largest outdoor quilt festival in the world.. you probably know that already. I bet you also know that Sisters is a western-themed town in the mountainous area of Central Oregon, known for hiking, skiing, the Sisters Folk Festival and the Quilt Show.
Did you know that:
The Quilt Festival is totally free?
An army of volunteers hangs more than 1,200 quilts early in the morning on July 13?  Volunteers take them all down again in the late afternoon.
The firemen hang quilts for the Stitchin' Post employee challenge on the side of the Stitchin' Post building?  Quilts go up starting at 7 am on the day of the show, a great spectacle to watch!
It is best to start out early to see the quilts on the day of the show. All of the quilts are taken down in the event of rain and afternoons can be very warm!  (But you can cool off at the Sisters Saloon with an icy beverage!)
Cascade Avenue, the main drag in Sisters, is closed for the day of the quilt show. You can walk down the middle of the street!
Quilt teachers and quilt book authors are in town for the show?  You can find them signing books and sharing insider information that quilters and their friends will love.
"Save it for Sunday" happens on July 14 at Five Pines Lodge.  A featured quilter's art will hanging in the forest.  Enjoy a walking tour like no other!
The Cherrywood Tribute to Prince exhibit can be seen in the Sisters fire station community room during the Quilt Festival.
There is an annual raffle for a quilt.  The lovely quilt for 2019 is pictured below and will be on display behind Stichin' Post during the show. Buy raffle tickets!
Laird Superfoods of Sisters is presenting the Laird Superfood Sport of Quilting Challenge.  Quilters are inspired to interpret symbols and logos that present Laird Superfoods to the world and how they relate to the Sport of Quilting.
Best of all — Sisters Saloon & Ranch Grill, a great family restaurant with freshly prepared food and locally sourced ingredients will be offering a lunch buffet on the day of the show.  The buffet starts at 10 am and goes until 4 pm. Just like seeing the fabulous quilts on display, a visit to the Saloon while you are in town is a must! This beautiful historic building started life as a hotel in 1912 and has been preserved in all its glory. The Saloon is a proud Quilt Show sponsor and our spectacular sponsor quilt is hanging in the window for all our customers and visits to enjoy!
Check out our menu here.
https://sisterssaloon.net/menu/
Some links you might like to click: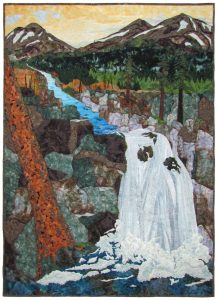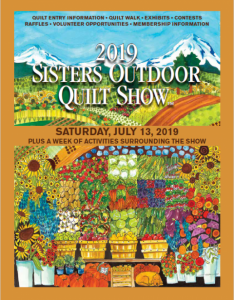 https://sistersoutdoorquiltshow.org/
https://www.facebook.com/Sisters-Outdoor-Quilt-Show-always-the-2nd-Sat-in-July-Sisters-OR-272512093597/