Yes indeed, the 2019 Sisters Rodeo is just around the bend. Lets get warmed up with some…..
RODEO HISTORY:
Where did rodeo come from? Especially here in the West, we think rodeo is as American as apple pie. But, did you know that "rodeo" is a Spanish word meaning roundup? The skills of the early Spanish vaqueros were passed along to the American Cowboy after the civil war when the frontier territories were expanding. In the late 1800's, Wild West Shows began travelling the eastern states. Famous cowboys like Buffalo Bill Cody and Bill Pickett performed in these early shows. Early rodeo events were not contests like they are now, but were shows put on by paid performers. The popular shows moved overseas in the early 1900's and the Wild West Show was featured in the World's Fair in Brussels, Belgium.
Where was the first Rodeo in America? Well, that depends on who you ask. Towns in New Mexico, Colorado, Arizona and Texas all claim to have held the first American rodeo. On July 4, 1888, Prescott Arizona held their first rodeo with events including bronco riding, steer roping and cow pony races with rules for competition and prizes awarded. The following year, Prescott added steer riding to their rodeo events. Steer riding, of course, evolved into modern bull riding. Calf roping did not join the Prescott lineup until 1917.
Rodeo history trivia question: Do you know the name of the first bull rider to score a perfect 100? Hint, no one has done it since.  Read on for the answer.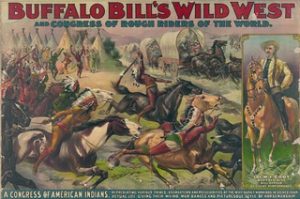 Sisters Rodeo will be held June 5 through June 9 at the Sisters Rodeo fairgrounds, located at 67637 Highway 20 in Sisters, Oregon. You can get more information and purchase tickets by calling 541-549-0121 or go to www.sistersrodeo.com
Don't forget to party with the cowboys and cowgirls at the Sisters Saloon & Ranch Grill, hosting the official after-Rodeo party every night of the Rodeo. This is an experience you will not want to miss!  Details of this iconic party to follow.  Stay tuned!
Trivia question answer:  Wade Leslie, of Quincy Washington is the only man in the history of bull riding to ride a perfect ride. He and the bull scored 100 points each – all the points that can be scored by the bull and the rider in professional rodeo bull riding.